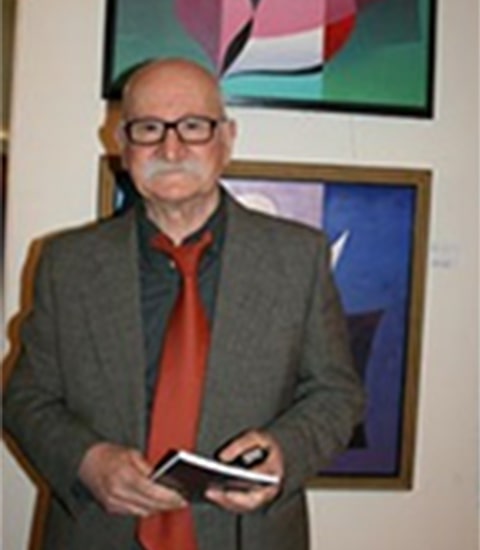 Givi Vashakidze (1937 – 2017)
was born on August 7th, 1937, in Tbilisi. He received his initial education in art at the Tbilisi Pupils' Palace, where he studied painting under Grigol Meskhi and Shalva Kapanadze from 1951 to 1954. At first, he studied still life painting, and later came up with his first creative work "The Wounded Rider (Horseman) in Svaneti".Vashakidze continued studying at the Tbilisi State Academy of  Art, where he was taught painting by Khita Kutateladze and Robert Sturua (father of the famous director).  Sergo Kobuladze, a renowned artist, taught him graphics.Certain changes happening in the Georgian and general Soviet Union's creative art space at the end of the 1950-s saw young painters negate the so called "Socialist Realism" and start to thoroughly study the Western European art of the late 19th century and early 20th century. Later, many of them opted for the impressionist and postimpressionist manner of painting.Naturally, proponents of the "official" art opposed such styles and, on the instructions of the communist party elite and the state security committee (KGB), young painters were often summoned and interrogated in party and law enforcement structures. However, the creative youth did not give up, and stuck to the innovative road they had chosen in art.Givi Vashakidze was one of these young artists. He gave a lot of significance to surrealist compositions in his work. Besides the surrealist style, his work also includes symbolic, metaphorical, imaginative compositions that represent the philosophical perception of the world.  We can firmly say that Givi Vashakidze headed the following of surrealistic, symbolic, imaginary art in Georgian painting during the late 20th century.It goes without saying that because of this, the Soviet officials did not allow the painter to hold exhibitions, and only in 1977, on the initiative of renowned Georgian dissident, director of the Rustaveli State Theater at the time and writer, Akaki Bakradze, the first personal exhibition of Givi Vashakidze was held in the foyer of the Theater. Later, his recognition grew and his exhibitions were held elsewhere:
In 1979 in Riga, Latvia,
In 1987 in the Painters' House, Tbilisi,
In 1989 in Moscow, in the Georgian Art Center "Mziuri"  ,
In 1989-1990 – group exhibitions in Munich,
In 1991 in Tyrol,
In 1996 again in Munich,
In 2019 – a personal exhibition at "the George Chubinishvili State Scientific Research Center of Art History" in Tbilisi.In 2021 –  Presently, an exhibition of his works is underway at the
Solomon Arts Gallery
in Tbilisi.